Two derelict Black Country industrial sites to be transformed with new homes
Two more derelict industrial sites in the Black Country are to be transformed to provide vital new homes for local people following multi-million-pound investment deals by the West Midlands Combined Authority (WMCA).
The investment paves the way for developer Lovell to build 234 homes on the site of an old foundry in Fountain Lane, Oldbury, and another 71 homes on the former Cookley Works site on Leys Road, Brierley Hill.
Both schemes have been made possible under the WMCA's 'brownfield first' policy, which unlocks derelict industrial sites for new development, helping to protect green belt land in the process.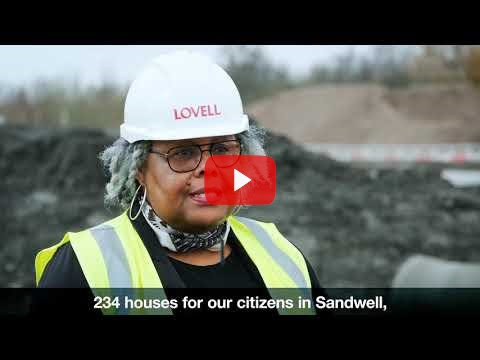 The deals announced today (Friday March 19) – £3.95m for Fountain Lane and £1m for Cookley Works – will pay for the clean-up of the sites, which have stood derelict for more than a decade, so they can be brought forward for residential development.
They are the latest in a series of WMCA investments that have continued throughout the Covid-19 pandemic, helping to provide market confidence and put in place the building blocks required to drive the region's post-Covid-19 economic recovery plans.
Andy Street, Mayor of the West Midlands and chair of the WMCA, said: "Announcing two more major housing projects on brownfield land shows the commitment of the WMCA, alongside Sandwell and Dudley Councils, Lovell and other partners to continue delivering for our communities during these difficult times.
"The pandemic has hit the West Midlands harder than most, but these two schemes, along with the many others we have funded in recent months, will help our regional economy bounce back after this crisis by providing vital jobs, affordable homes, apprenticeships and space for communities to grow.
"It is vital we continue unlocking the region's brownfield land in this way to deliver much needed and affordable housing and employment across the region and protect our Green Belt from unnecessary development."
The Fountain Lane scheme will include one and two-bedroom apartments, as well as two, three and four bedroomed houses. A total of 49% of the new homes will be for affordable rent and shared ownership tenures.
The Cookley Works site has stood derelict since the last business based there closed in 2007, ending more than 150 years of steel industry on the site. It will see 71 new homes including a mix of affordable rent and low cost home ownership.
The decision by Lovell to include a high proportion of affordable properties in both schemes has been welcomed by the WMCA, which requires all developers receiving WMCA investment to include at least 20% affordable homes in their schemes.
Commenting on the Fountain Lane development, Cllr Maria Crompton, Sandwell Council's deputy leader, said: "This large piece of land has been vacant for a number of years. It's great news for Sandwell that new life is now going to be breathed into this former foundry site.
"The site is an ideal location for residential development with good transport links and will also be providing much-needed affordable housing for Sandwell people."
On Cookley Works, Cllr Ian Kettle, Dudley Council's cabinet member for regeneration and enterprise, said: "New housebuilding and the regeneration of brownfield land like Cookley Works will have a key part to play in rebuilding our economy from this pandemic while protecting our green fields and wider environment.
"I'm particularly pleased that many of the properties will be classed affordable, giving local people the opportunity of living in a modern, good quality new home."
Stuart Penn, regional managing director for Lovell, added:  "It's thanks to the WMCA's Single Commissioning Framework that we're able to bring forward schemes like these at both Fountain Lane and Leys Road and it's a pleasure to be able to regenerate these brownfield sites into thriving new places to call home.
"This framework allows strong working relationships with developers agreeing to meet the WMCA's land use and design criteria equally.
"When we emerge from the pandemic, there will be an even greater impetus to identify key, strategic sites that can support the region's regeneration.
"Despite recent events, this announcement comes at a critical time as we work together with the WMCA to deliver the Midlands' housing needs, vital to the wider economic recovery of the region."
Cllr Mike Bird, WMCA portfolio holder for housing and land and leader of Walsall Council, added: "The WMCA's nationally leading brownfield regeneration programme continues to gain momentum and rightful recognition.
"These latest two schemes are yet another great example of how we are investing now to support the region's economic recovery as we emerge from the pandemic and deliver our long-term housing targets.
"Because of the intense industrial activity that took place on these sites over many years, the land needed to be cleaned up and made suitable for development. The investment from the WMCA will enable that to finally happen, making the site financially viable for the developers."
Both schemes are part of a pioneering partnership deal struck between Lovell and the WMCA 18 months ago, bringing together public and private sector skills and investment to supercharge the unlocking of old industrial land for development, helping to ease pressure on the Green Belt.
The deal aims to deliver 4,000 new homes over eight years, boosting the region's efforts to build 215,000 new homes by 2031.
Without the critical investment by the WMCA, using housing and land funds it has secured from Government, neither scheme could have proceeded.
But the deals now mean work can get underway on Fountain Lane this spring with completion expected in 2025. The Cookley Works site in Brierley Hill is set to start later this year with completion by spring 2023.
Access to funding for the Fountain Lane scheme was provided by Frontier Development Capital Ltd (FDC), a fund manager working closely with property developers to arrange investments from the WMCA's Collective Investment Fund (CIF), Revolving Investment fund (RIF) and Brownfield Land and Property Development Fund (BLPDF).
An aerial photo of the site in Fountain Lane, Oldbury which is set to be transformed with more than 230 new homes