The woman who builds the blocks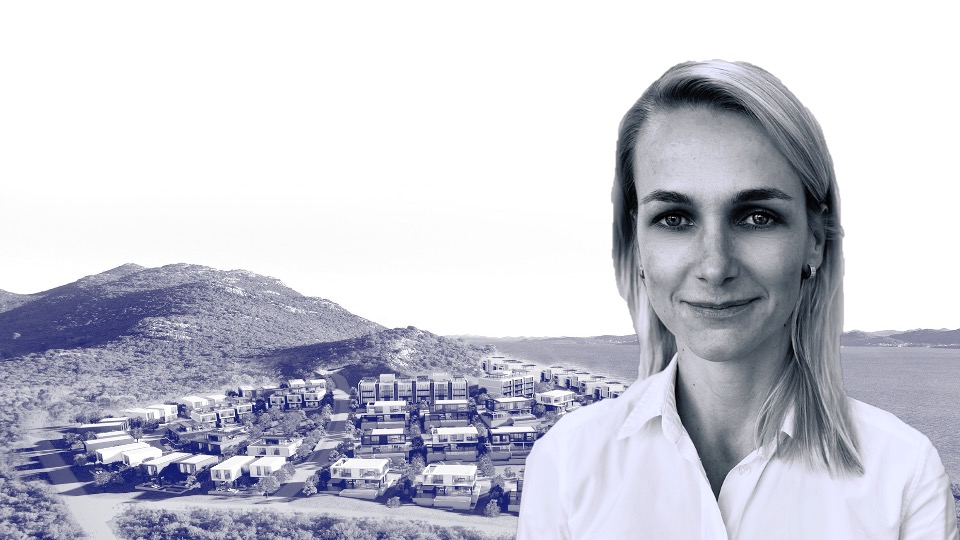 Sunday 23 May, 2021
The real estate sector is not typically a female-friendly sector, as men dominate at most senior-level positions. While it may sound surprising, there's a real estate developer that has women occupying most of the important jobs. Even a female CEO, who says that this situation is just an outcome of the company applying equal treatment when it comes to talent.
Since 2012, SITNO HOLDING REAL ESTATE has been led by Elena Segecova. Before she took the CEO position, she had been responsible for various real estate projects at the company and had worked her way up through literally every level from legal support to project assistant, project manager, board member, and finally CEO. She holds degrees in both law and economics, speaks English and French, and is a passionate folk dancer and mother of two. Elena's story is indeed an interesting one. Here's a short interview with her that touches on a bit of everything. We hope you'll enjoy it as much as we did.
Q: What's your life's headline?
A: My colleagues would say it's "I don't take 'no' for an answer." There's always a way to solve every problem unless you alone stop solving it. I don't really use motivational quotes, but recently I came across Michael Jordan's: "I can accept failure, but I can't accept not trying." I would say these words pretty much define what I believe in when it comes to work.
Q: Who's your childhood hero?
A: I come from a very small rural town, so there was no time for childhood heroes (laugh). Seriously, I cannot remember having any poster in my room, neither a rock star nor a movie star. I was raised in a culture strongly connected with nature, folk music, and local habits that formed part of who I am today. The main message from my early years is that you must work hard to deserve anything. It may sound funny, but all my life I've admired my parents for their way of life, their simple but ethical philosophy, and their friendly behavior.
Q: You have two small kids. Did you enjoy the maternity leaves?
A: Not really, as I really didn't get any (laugh). With both pregnancies, I was preparing myself for at least a year off but was back in the office after six weeks (another laugh). Luckily enough, our offices are kid friendly so they both could stay with me during the day. We even have a kid's corner and a babysitter on duty during office hours. Most of my colleagues with kids, not only women, are using and enjoying this service.
Q: How does an outside stranger react to an office full of kids?
A: To be honest, I don't really care. This is the way we are, and that's it. My grandmother used to take my mom everywhere when she was an infant. We just changed the rural fields for modern offices, but the story is the same. I need to work, and I can't be without my kids. The solution is as simple. Our kid-friendly office comes with it all. Of course, it doesn't mean that our workplace is turned into a kindergarten or that little children are playing in the meeting rooms while others work. It's all designed to create a symbiosis and easy-to-live-with coexistence for all.
Q: The staff is more than two-thirds female in your firm. Was this your idea?
A: Not really. It wasn't anyone's idea, to be honest. We simply are lucky with our highly professional staff on all levels. It is just the side effect of our equal-opportunities concept. We don't preach it, we live it. I never read any guidelines on the implementation of females into business life. It is a reflection of my life philosophy of treating people by their performance, not their sex, religion, or anything else.
Q: Okay, but still—this doesn't look to be a normal approach in real estate.
A: I can't really compare to other companies. There's lot of women in the real estate business, but the majority occupy junior positions and stay there throughout their whole careers. It's just the result of our ethical approach to equal treatment based on one's work. Sometimes when I come across an article on how to properly treat females during job interviews, I can't stop laughing, because major new trends described by the authors have been used in our company for more than a decade.
Q: How do you spend your free time?
A: What's free time? I mean I have two kids and job that I love (laugh). I am a very regular person when it comes to my private life. I spend all my time with my husband and kids. We have a small chalet close to my hometown, surrounded by beautiful nature, so we spend most of our free time outdoors. I love and literally need a physical activity. We hike and bike, and I can say I would acquit myself well in any kind of collective sport, too. I love improving in everything. I feel an urge to pursue perfection in everything. Sometimes that's my course.
Q: Okay, now a different question. What will be the main driver in the real estate industry in the next 10 years?
A: I think the market will shift slowly from ownership to renting, mostly in the CEE, where almost 80% of properties still are occupied by their owners. There will be strong pressure on developers not only to think green, but to act green. Consumers will prefer more sustainable properties with less impact on the environment. Zero emissions will become a must for large-scale developments. Smart solutions and automation will shift from the upscale market to the mass market. And even with the potential for a market correction sometime in the next decade, I am pretty sure that real estate will double its value from what we see today.
Q: What do you mean by market correction? Should we be afraid?
A: Not at all. Real estate properties, especially ones with high YIELD potential, will always be one of the assets safe to invest in. There might be some slight downturn in the property market as a result of post-pandemic overheating. That is a natural outcome, and I think that most investors and developers calculate using this variable. Real estate must always be seen in the long run; there are too many short-term options, such as cryptocurrency or the stock market.
Q: What's your professional dream?
A: To develop and build properties that will last for generations to come and that even after 100 years will be fashionable places to stay. And I want their future occupants to wonder about who designed and built these timeless solutions.
Thanks for your timeJ
Distributed by https://pressat.co.uk/ Source