Altuity wins West of England Combined Authority grant to fund R&D into 3D scanning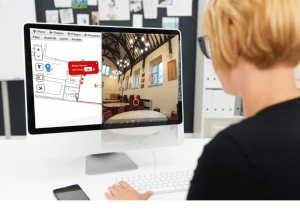 Monday 14 June, 2021
Altuity Solutions Ltd, a UK-based developer of facilities management (FM) and underground asset management software, has won a business growth grant from the West of England Combined Authority to fund 80% of the hardware costs for an R&D project.
The funding will be used to develop an easy to use and affordable way to collect 3D data of buildings and assets and integrate it into Altuity's software using new features in the Apple iPad Pro, explains Steve Voller, Altuity's Founder.
Altuity's FM software helps create safe and compliant spaces for people to live, learn, work and play in. The software provides asset, maintenance and compliance management functionality for facilities managers, schools, asset owners and contractors.
"From a cost perspective, 60% of the whole life cycle cost of a building is incurred during its operation and maintenance, emphasising the need for proper control of FM activities. However, many buildings are still managed using spread sheets or notebooks due to the perceived complexity, cost and difficulty of use of software solutions," Mr Voller says.
The visually based software uses maps, floor and site plans and 360-degree photospheres. This makes it simple and easy to use. Adding 3D data is the next step on the visualisation journey for Altuity's customers.
"Incorporating this into our software will extend the ability to tag data in the real-world visualisation and link it to other data management processes. Our intention is to put the creation and management of 3D data into our users' hands by making it easy, affordable and practical. This involves using newly released features in devices such as Apple iPad Pro's rather than expensive cameras or specialist survey equipment. These enhancements will open up the market for our software in the UK and potentially internationally as well," Mr Voller says.
The grant will also enable the company to recruit a new employee using the UK government's Kickstart scheme.
West of England Metro Mayor Dan Norris says: 
"It's fantastic that we're able to support local businesses like this to get their innovative ideas off the ground and bring them to life. The work that Altuity is doing will also help other organisations such as schools to embrace the latest advancements in technology as we further establish our region as a leader in tech. To top it all, the fact that our business growth grant has provided new jobs is an added bonus."
ENDS
About Altuity
Altuity was founded in 2014 to make it easier for those managing buildings, estates, assets and buried services to access information and gain insights from the data being managed. With its intuitive software, using advanced visualisation technology that combines maps, floor and site plans, 360° photospheres and augmented reality, Altuity delivers asset management solutions and a truly unique approach to managing data and information for its clients.
For more information, visit: https://www.altuity.com
iPad Pro is a trademark of Apple Inc., registered in the U.S. and other countries and regions.
Distributed by https://pressat.co.uk/ Source